Like most high school students, you may be wondering if you can go to college and what steps you need to take to get there. We encourage you to stay on track academically so you are prepared to meet the ASU admission requirements and the academic rigor of a college education.
Contact your ASU high school admissions representative
Your school has a designated ASU representative that can help guide you through the application, picking a campus and major, financial aid and many other important questions. Your representative has scheduled visits to your high school.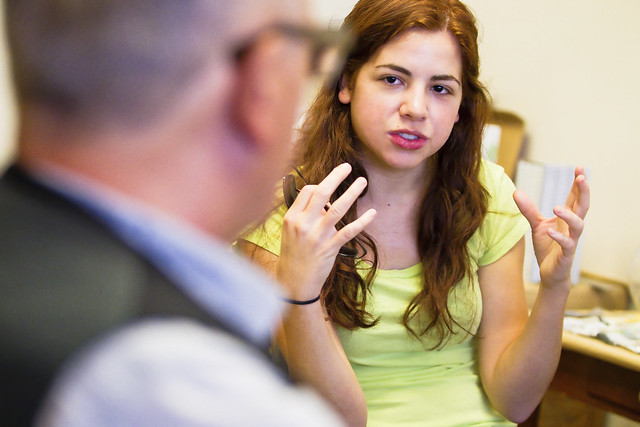 When to apply
Submit your admission application as early as possible — ideally during the summer between your junior and senior year of high school.  
Steps to apply
To begin evaluating your application for admission, ASU must have your completed online application, your official high school transcripts and your application fee (or fee waiver form). Follow the steps below to ensure you've completed all that is required.
Social security number
You must have a social security number to apply for admission to ASU.
Submit the nonrefundable application fee
Arizona residents: $50
Domestic nonresidents: $70
You can pay using a credit card (Visa or Mastercard) or eCheck at the time you submit your application or when you log in to My ASU. Or you can mail a check or money order to Admission Services (payable to Arizona State University) at the address below.
Admission Services Applicant Processing
Arizona State University
PO Box 871004
Tempe, AZ 85287-1004
Send your transcripts
If you do not self-report your grades in the ASU application, you must have your high school send an official copy of your transcripts to ASU.
An official transcript is required for all students upon graduation from high school indicating their high school graduation date. Otherwise financial aid and scholarship disbursements will be held.
Have your official high school transcripts sent from the issuing institution to the address below.
Admission Services Applicant Processing
Arizona State University
PO Box 871004
Tempe, AZ 85287-1004
Request to have your ACT or SAT scores sent directly to ASU
ACT or SAT scores are required for merit scholarship consideration and ASU course placement. They are also required for some majors and can be helpful in the general admission process. Have your test scores sent to ASU from ACT or College Board.
More info on ACT and SAT
Take one or both of these college aptitude tests your junior year. If you take the tests early, you will have time to retake the test for a higher score, should you choose to do so.
Test scores are not a requirement for admissions, but ASU must have a test score on file to award merit based scholarships. Having test scores on file can only help you. Use our scholarship estimator to see how increasing your test score can earn you more scholarship money.

You will have the choice to select up to four schools to have your scores mailed to for free. Make sure to request that your test scores be sent to ASU. If you wait until later to request this, you will be charged $15 by the test provider, per request. ASU will accept your best score from either test.

If you are unable to pay the test fee, be sure to talk to your high school counselor and ask for a test fee waiver. Both ACT and SAT offer waivers and foster students automatically qualify.
Check application status
Once you've completed all these steps, ASU will review your application. To see if you have any missing items and to review your admission status, sign in at My ASU using your ASURITE UserID, which is sent to you after you apply for admission.
Check application status
Fill out the FAFSA
The Free Application for Federal Student Aid is used to award federal grants, loans, work-study and certain scholarships, and can be filed now for the 2019-2020 school year. We encourage you to file right away. ASU's Federal School Code is 001081.